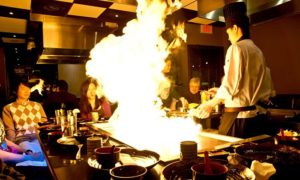 Do you have those nights where you know you want to eat out but you can't decide where to go? Sick of visiting ChowHound and making food? You begin making a mental list of all the restaurants in your area and start to pick their qualities apart to make your decision a little easier. You think of things like food quality, service, price and overall atmosphere. With most places, you end up giving up one or more of those qualities. For instance, you choose a place that has great food but the service isn't quite that great. Or a place that has good service and atmosphere but the food isn't up to par. You may got to Yelp or Google to do more research. What would you say if i told you I know the perfect place to dine that has all of those amazing qualities you look for in an enjoyable dining experience? You'd probably say "There's no such place", but I can assure you there is.
A Japanese Hibachi restaurant has all of those amazing attributes and more to offer. Hibachi restaurants prepare your food for you right at your table so that you feel included in a way that you never have before at any other eating establishment. The way the food is prepared for you is more like you're at a show watching an incredible performance rather than just eating at a restaurant. The Hibachi chefs are very talented and do a wonderful job of showcasing their skills. Not only is the service and atmosphere marvelous, but the food is absolutely amazing. It's unlike anything you've ever tasted before. Your taste buds will thank you! If the experience and atmosphere alone isn't enough to convince you to try a Hibachi grill, then all of those smokey and savory flavors exploding in your mouth from the delectable food prepared right in front of you certainly will. If you're in the Dallas, TX metroplex there is a great sushi place called Hanaya in Flower Mound, TX.
Now, let's talk price for a moment. I'm sure you've heard that famous saying "You get what you pay for". That quote is so very true. If you want to pay a cheap price for your food, then cheap is what you shall receive as far as quality and service is concerned. A Hibachi restaurant is something you have to experience, not just a place to eat. Naturally you will pay a bit more than you normally would at any other eating establishment. Now, I'm not saying that it will cost you an arm and a leg to eat there but be prepared to pay more than the average. If you take into account all of the amazing things a Hibachi restaurant has to offer, then you will know that it is completely worth it. Research does show that people tend to pay more for food if the quality is high and the convenience factor is there.
So, do you believe me now? If you aren't convinced after everything you've just read, then go and find out for yourself. Set a date and go visit that Hibachi restaurant you've been so skeptical to try. Find out for yourself how amazing it truly is. Everything you know and expect from a restaurant will completely change once you've experienced eating in that fashion. Please visit Hanaya: I promise you won't be disappointed.
P.S. You should check out this video below that's pretty entertaining!